Donate to the Trust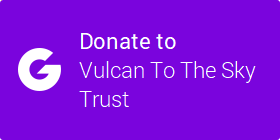 Donation Line: +44 (0)2476 322 259 (during office hours)
You can also make donations via cheque by post if you prefer this method. Cheques should be payable to "Vulcan To The Sky Trust" and posted to our ADMIN OFFICE:
Please write your name and address on the back and indicate if you wish us to claim Gift Aid.
You can also donate by texting from your mobile phone..
Simply select any amount from £2, £5 or £10 and put the desired amount after our specific shortcode to the dedicated charity text number.
If you are a UK taxpayer, you can also sign a simple declaration that will be sent with your receipt. This will enable us to collect 25% on top of your donation from the government, with no additional cost to you.
Our NEW dedicated code is: PLAN17£* (where* is the donation amount) and the text number 70070
Hence, to donate the following amounts:
£2 text PLAN17£2 to 70070
£5 text PLAN17£5 to 70070
£10 text PLAN17£10 to 70070
Thank you for any donation you can give.